For appetisers, I have chosen two types of salads and one peach soup. Salads can actually be eaten as a main course if you are the weight conscious type or as an appetiser.
Grilled Peach and Goat Cheese Salad
---
Ingredients
1 (29-ounce) can Sliced peaches in heavy syrup, undrained and chilled
3/4 cup tub Fat-free cream cheese, softened
1/4 cup Coarsely chopped walnuts
Curly-leaf lettuce leaves
Ground cinnamon
Instructions
Drain peaches in a colander over a bowl, reserving 1/4 cup syrup.
Combine reserved syrup and cream cheese; stir well with a whisk. Stir in nuts.
Divide peaches among 6 lettuce-lined bowls.
Drizzle 3 tablespoons cream cheese mixture over each serving; sprinkle with cinnamon.
Yield: 6 servings.
Back to Top
---
Grilled Peach and Goat Cheese Salad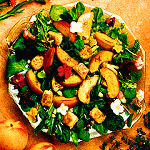 Warm sweet peaches, roasted red peppers and goat cheese nestled together on a bed of greens.
Ingredients
3 tablespoon Oil
2 tablespoon Balsamic vinegar
1/2 teaspoon Mustard
6 cups Mesclun or torn greens (1.5 lit)
1/2 Sliced sweet onion
1 Large red pepper, quartered
4 Peaches*
1/2 cup Goat cheese, crumbled (125 ml)
Salt & pepper
Lemon juice
Instructions
Combine oil, vinegar, mustard, and salt and pepper to taste; set aside. Divide mesclun and onion on 4 salad plates.
Barbecue pepper over high heat until skin is black and blistered. Place in paper bag until cool enough to handle; remove skin and cut into thin strips.
Place aluminum foil on barbecue. Peel peaches and cut into quarters. Brush peaches with lemon juice. Grill peaches over medium-high heat, turning until golden.
Top salad plates with red pepper strips, peach quarters and cheese. Drizzle with dressing.
Makes 4 servings.
Back to Top
---
Ingredients
3 cups Diced honeydew melon
1/2 cup Fresh orange juice
1/2 cup Vanilla low-fat yogurt
1 tablespoon Honey
1 teaspoon Finely chopped peeled gingerroot
2 teaspoons Fresh lime juice
2 cups Diced peeled peaches (about 1-1/2 pounds)
1 cup Blueberries
Instructions
Place first 6 ingredients in a blender, and process until smooth.
Combine melon mixture, diced peaches, and blueberries in a bowl. Stir well. Cover and chill before serving.
Yield: 6 servings (serving size: 1 cup)
Back to Top